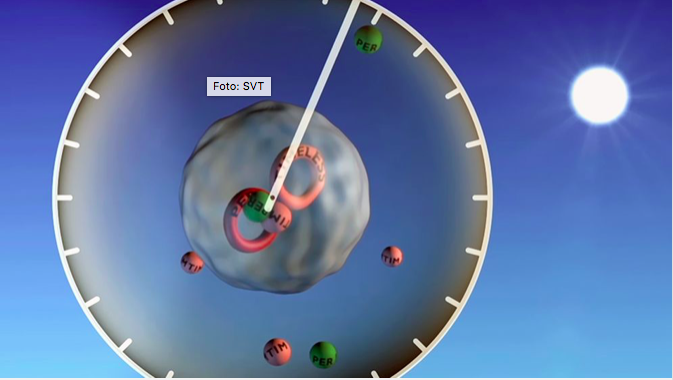 Forskning visar att tarmfloran och dygnsrytmen har utvecklats tillsammans för att reglera vår metabolism. Och att störningar i tarmfloran och vår inre dygnsrytm ökar risken för fetma. Sådana störningar inkluderar antibiotika, nattarbete, resor / jetlag osv.
Forskarna uttrycker det så här "Our results suggest that the microbiome and the circadian clock have evolved to work together to regulate metabolism" och "Our results also suggest that disrupting the interactions between the microbiota and the body's clock could make us more likely to become obese. These disruptions happen frequently in modern life when we take antibiotics, work overnight shifts, or travel internationally. But we think that our findings might eventually lead to new treatments for obesity — and possibly malnutrition — by altering the bacteria in our guts."
Forskarna i den aktuella studien upptäckte att goda bakterier programmerar kroppens metaboliska rytm. Mer specifikt fann de att ett protein som heter deacetylas 3 (HDAC3) aktiveras av mikrober. HDAC3 är ett protein tillverkat av celler i tarmslemhinnan. Detta protein hjälper till med matsmältningen genom att ta upp näringsämnen. I studien fann man att HDAC3 slår på gener som hjälper till att absorbera fett. HDAC3 arbetar också för att reglera dygnsrytmen och främjar absorptionen av fett under vakna timmar.
Forskarna genomförde en studie med bakteriefria möss för att undersöka histonmodifieringar. Histonmodifikationer – som görs av enzymer som HDAC3 – styr uttrycket av gener som i sin tur gör proteiner som utför cellens arbete. Vid jämförelse av normala möss (med bakterier) med bakteriefria möss, upptäckte forskare att vissa histonmodifieringar – inklusive de som gjordes av HDAC3 – var cirkadiska i normala möss (dvs varierar med dygnsrytmen), men hölls stabila på en plan nivå i bakteriefria möss.
Man tog sen fram möss som saknade HDAC3 i tarmväggen. Man gav sedan dessa möss olika sorters kost. När de matades med normalt musfoder verkade det inte finnas mycket att observera. Men när mössen fick en Standard American Diet (SAD), med mycket socker och fett, förändrades saker. Möss blir normalt feta på sådan kost. Men forskarna fann då att möss som saknade HDAC3 förblev smala.
När man jämförde möss som saknade HDAC3 och de bakteriefria mössen, så uppvisade de samma "icke-rytmiska" histonmodifieringar. Detta bekräftar HDAC3:s betydelse för dygnsrytm.
HDAC3 fästs vid cellklockan för att säkerställa att absorption av fett är som högst medan du är vaken och äter.
I en annan artikel beskriver man det så här: "scientists have discovered a key driver behind the communication that helps synchronize nutrient absorption in the gut and the rhythms of the Earth's day-night light cycle."
"circadian rhythmicity is a defining feature in the metabolism of mammals. It synchronizes metabolic processes to day-night light cycles. It isn't surprising, therefore, that the gut microbiota also displays daily cycling."
"researchers found that commensal, or good, bacteria can do this epigenetically. The bacteria induce the rhythmic expression of a protein called histone deacetylase 3 (HDAC3) in the skin cells of the small intestine. This expression drives the oscillations in intestinal metabolic gene expression, particularly with regard to nutrient transport and lipid metabolism. HDAC3 also directly activates estrogen-related receptor alpha, which promotes the absorption of fats. 
This means that the mice that lack the essential good bacteria that regulate their metabolism also become obese on high-fat chow. It could also explain antibiotic-related obesity, as well as obesity that's related to sleep disruption due to jet lag and night-time working."
https://www.sciencedaily.com/releases/2019/09/190927135200.htm